Portmoneum – Museum of Josef Váchal
History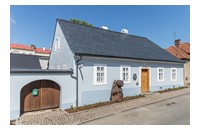 Josef Váchal, the acclaimed graphic artist and author of distinctive books, made his mark on Litomyšl in the 1920s. He first arrived in Litomyšl in 1920 at the invitation of a local art and book lover, Josef Portman; he admired Váchal's work so much that he decided to set up a museum dedicated to him – the 'Váchaleum'. Portman collected Váchal's graphics and books and hired him to decorate his rooms over a four-year period, complete with carved and painted furniture and small sculptures. Nevertheless, Josef Portman was not able to fulfil his museum dream, because of an ensuing disagreement with Váchal.
After Portman's death in 1968 the murals continued to decay and deteriorated even more markedly through the dousing of a house fire in the 1970s. Fortunately, the house was bought in 1991 by Váchal's great admirer Ladislav Horáček, who had it restored. The restoration work was carried out by a team of experts, led by Jiří Látal. To save the paintings, they had to take them down off the walls. Transferring the paintings was quite a pioneering undertaking; although it had been done with frescoes, for oil-painted murals this was a first.
In June 1993, the Váchal Museum opened to the public under the Portmoneum name. Horáček got his inspiration for the name from Váchal's Bloody Novel, which also featured Portman's house, described therein as something between Prague's Rudolfinum (gallery and concert hall) and Faust's House. After Ladislav Horáček's death his heiresses sold the museum to the Pardubice Region, who updated it in 2020.
Exhibition
The permanent exhibition is dedicated to three men – the painter and graphic artist Josef Váchal (1884–1969); the owner of the house, art collector and book printer Josef Portman (1893–1968); and the publishing house owner and the museum's patron Ladislav Horáček (1947–2015).
A separate exhibit deals with the history of the house itself and, of course, the restoration of the murals. Josef Váchal's decorated rooms are the highlight of any visit. These paintings and furniture are what make the Portmoneum unique. The sheer diversity of Váchal's paintings has great artistic merit in its own right. All his spheres of interest find depiction here, from Christianity to occult science, from landscape painting to expressionism. He touched on all the artistic movements of his time, but rendered his scenes in his own inimitable way. Also featured are allusions to his life experiences, his prior works and the places he visited.
The second part of the exhibition is a multimedia show, representing Josef Váchal's life and work through video-mapping. The garden and the house are complemented by contemporary artists' works.
Opening hours are here.